Religion is scared of Knowlege and Truth
The purpose of Religion is the Emplyoment and the Empowerment of Clergymen
What does Pat Condell believe?
The problems with Absolute Certainty
Evolution vs Creationism: by Scientists
Creationists want to brainwash Americans on CNN
Richard Dawkins on BBC HardTalk (Part 1)
Richard Dawkins on BBC HardTalk (Part 2)
Richard Dawkins on BBC HardTalk (Part 3)
Atheists attacked by idiot bigots on FoxNews
FOX News Continues its Attack on Atheists
Citing Atheists Offensive in Obama Inaugural Address?
Maryam Namazi (Exposing Islam is not racist)
Submission ( a Great Movie by His Excellency Mr Theo Van Gogh)
You will always live.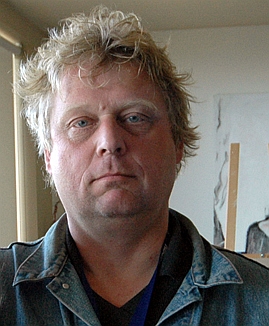 In the Memory of the Great Hero and Martyr of the Century Mr Theo Van Gogh
Your sin was the saying of the "Truth" Islam's enemy No 1.
Theo Van Gogh, it is a great honor for me to display your picture on my Website.
Islam can only survive in Darkness, Its true friend is Ignorance and herd mentality. the true enemy of any religion and in particular of Islam is "Knowlege" and "Truth". Islam is not only a threat to the Western but to all other Civilizations.
Some would suggest that Islam clash with Western Civilizations. the truth is that Islam clash all other civilizations not only with Western or European civilization but with Hindu, Chinese, African, indigenous Americans and all other civilizations. if the problem did not lied within the Islamic culture and values itself, then we would have seen clash of civilizations between European and Africans, African and Chinese, Chinese and Western etc , but since no of such cultural clash exist between those mentioned civilizaions except with islam. Islam has a problem, i refain myself from calling Islam "a civilization" because it is not, it is a barbaric stone age cultures, with intolerant barbaric values.
What do i think of Quran? I think Quran is an insult to Muslim minds and conscience before to anyone else.
Evidence and research suggest and indicate that Islam can only survive in less intellectually developed societies, in other word, religion can only survive in backward and less educated, of intellectually healthy societies. people with less intelligence are more likely to be decieved by religion, there are overwhelming evidence to support such claims.
Why do i focus on Islam so much and condemn it? The reason i condemn Islam, is because i love and care about muslims, i want them to be freed from this evil ideology called "Islam".
Muslims are not born Evil they are turned into evil by Quran's teaching of hate and terror.
One cannot deny the fact that there is a corrolation between Islam and backwardness, Islam and Violence, Islam and Intolerance. Islam and Dictiorship, Islam and War, Islam and Unequailty, Islam and Irrationality, Islam and the Hate of others, Islam and terror, Islam and Barbarism. Islam and Darkness, etc.
Islam and Quran Corrupts Muslims and NOT the other way around.
I believe that the true victims of Islam are Muslims themselves, Islam does not in any way serves Muslims or their interests but does them far more harm than any good, however and unfortuantely they are incapable of realizing this true fact.
If Muslims want to be respected by the rest of the world, the first thing, they must do is to reform their religion by re-writing (modifying) the current version of Quran , so that hatred and violence against non-Muslims is no longer reflected and preached in Quran , i.e a Quran where violence and hate is no longer reflected on its pages is of urgent necessity , a new Quran is of urgent need if Muslim truely want peace with the rest of humanity. the so called "islamic scholar" (again i refain my self from calling them "scholars" because they are bigots and hypocrits) must abolish Quran or reform (re-write) it if they truely care about their people, This is because Quran distort Muslims image and turn them into evils, it teaches them to fight and hate non-muslims. the verse below is just one of hundred of hate teaching verse in the so called "Holy" Quran. Muslims themselve should abolish Quran altogether or at least remove such verse, the verse such as the one below can only be justfied by a faciest. anyboday who consider Quran as holy must be mentally sick whether they are muslim or not.
Quran: Chapter 9. At-Taubah (Repentance) verse 29:
29. Fight against those who (1) believe not in Allâh, (2) nor in the Last Day, (3) nor forbid that which has been forbidden by Allâh and His Messenger (4) and those who acknowledge not the religion of truth (i.e. Islâm) among the people of the Scripture (Jews and Christians), until they pay the Jizyah[] with willing submission, and feel themselves subdued.
Jizyah: is tax levied from the non-Muslim people(Jews and Christians etc) who are under the protection of Musim government.
We are lucky and must be pleased that not all Muslims follow the draconian and barbaric teaching of Quran. However if Muslims do not follow what Quran teaches them, then they are considered not true, loyal and good Muslims according to Quran, Islam and the Mosque. so for them to be good they need first to be evil to satisfy their religion and Holy book.
Where ever the source of a consitituation is Quran (Sharia) you will see barbarism in action, look at Sudan, Iran, Saudi Arabia, Taliban Afghanistan etc. Taliban were the real Mohammadan, they were implementing the true form of Islam, Talabian were practicing Quranic values and teaching, which included stonning women to death. and beheading, amputation and all the rest of Islamic and Quran's niceties.
24. An-Nûr (The Light)
2.
The woman and the man guilty of illegal sexual intercourse, flog each of them with a hundred stripes. Let not pity withhold you in their case, in a punishment prescribed by Allâh, if you believe in Allâh and the Last Day. And let a party of the believers witness their punishment. (This punishment is for unmarried persons guilty of the above crime but if married persons commit it, the punishment is to stone them to death, according to Allâh's Law)
[]
.
http://www.ummah.com/what-is-islam/quran/noble/nobe024.htm
what an evil Allah is that who want to stone people to death, I ask? can anyone explain it?

So who says stonning to death is un Islamic? Taliban were real Mohammedian, they were implementing
Quranic verses, so why do we blame them and accuse them of being evil, and say that Quran is Holy and is not evil?
Are not we Hypocrites in the West? any book that teach hate and terror should be banned.
shame on all those who consider Quran a book of peace and love.
Ouran order Muslims to never seek peace when they are strong, Quran tells them not to be weak and ask for peace, but fight until you impose your values on non muslims . so never trust that Islam is a Religion of Peace, and Quran a holy book and that real Muslims want peace, because if they do want peace they will be beaking their religion's teaching .
Quran: Chapter 47. Muhammad or Al-Qitâl
35. So be not weak and ask not for peace (from the enemies of Islâm), while you are having the upper hand. Allâh is with you, and will never decrease the reward of your good deeds.
Finally I think if there is God (even though i strongly blieve that God does not exist or at least I do not believe there is a God as being described and definied in Bible and Quran) but if we assume just for a moment that there is a God, then the true enemy of such God would be religion, and especially Quran and Bible are the true enemy of God, this is because God is depicted as a torturer and a blood thristy Being who cannot wait to punish and torture his creatures/man. A god who enjoy puting his childern in the Fire of hell. what an evil God could that be? i ask?
I also blieve that Islam and Quran cannot be reformed this is because reform would mean abolishing so many verses in Quran and this would result in the argument that Quran is not the word of God and hence will lose its authority. Reforming Quran would also put so many new questions on Mohammed prophecy and his alleged revealtion . the consquence would be catastrophic and filled with contradiction for islam as whole. the olny solution is would be abandoning Islam altogether and abolishing Quran entirely,
I welcome Swiss people's decision to ban Minarets but I think they should have first banned Quran, because Quran is filled with hate towards non-Muslims. Mosques need to be banned as well, because Mosques are the places where lectures of hatred are given to Muslim about non-muslims, Muslims are told by Imams that their way of life and values are better then the values of Corrupt non-muslims West. Minarets in West are built as a symbol of power and authority of Sharia. banning Quran must be the next step if we truely want justices and respect.
Last but not least, Is God is real?? of course not, we have created the concept of God in our imagination. i.e we are the creator of God and not the other way around, we have attributed all our good qualities to a mythical figures called God, to give ourselves a hope that life does not end at death, and that there is afterlife, we have deluded and deceived ourselve with a false wishingly hope.
Sipan Osman 2005